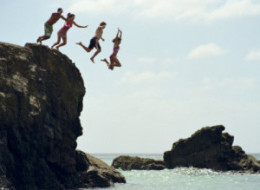 "If someone asked you what you do for fun, would you have an answer?" is a question posed inside the flap of Joe Robinson's book "Don't Miss Your Life: Find More Joy and Fulfillmen
­t Now."
Fun adds zest to life!
If you need some ideas of simple down to earth ways to have fun, take a look at Twifties.T
­V. Twifties are the fun people in their late 40s, 50s, and UP! We advocate living life to the fullest, and it doesn't have to be about expensive vacations in exotic locales, and other "forced fun" occasions.
It's about getting together and relaxing with friends and taking a hike, stopping to do some yoga stretches on the way. Or riding the zip line and canopy tour at the local ski mountain in warm weather. Or playing with your shadow on camera. These are some of the fun videos you can enjoy on
Twifties.TV.
Lauren
editor, founder Twifties
Fifty is the new 20. Twenty, 50...Twift
­y!
Read the Article at HuffingtonPost